Episode:
How To Successfully Get Through Present Day OSHA/HIPAA Inspections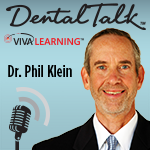 Dental podcast: Welcome to DentalTalk. I'm Dr. Phil Klein. OSHA, Infection Control & HIPAA Compliance have undergone massive changes in the past few years. So in light of that, we thought it would be useful to our audience to get insider tips on: what the Inspectors are currently looking for & how to set-up reliable OSHA & HIPAA compliance programs within your dental office. Our guest is Jill Obrochta, a 30 plus year veteran of the clinical dental hygiene arena and is now considered one of the country's top DENTAL OSHA & HIPAA COMPLIANCE EXPERTS. She is an internationally published writer & educator for several, top-industry manufacturers.
Podcast Exam
Please
Log in
to take exam and earn CE credit.
More Podcast Episodes You Might Like