Episode 398:
Expedited Excellence: Increase Your Efficiency With Restorative Dentistry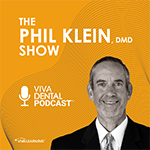 Dental podcast: Welcome to DentalTalk. I'm Dr. Phil Klein. Stressors in dentistry have never been higher. Increased cost of doing business, inflation, supply chain issues, and short staffing to name a few. Today we'll be discussing strategies to increase our efficiency in both direct and indirect restorative dentistry in order to keep costs down without sacrificing quality.
Podcast Exam
Please
Log in
to take exam and earn CE credit.
More Podcast Episodes You Might Like