Episode 354:
Enter the New Era of Bioactivity and Biomineralization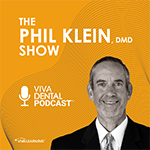 Supporter: Pulpdent
CE Credits: 0.25 CEU
Dental podcast: Welcome to DentalTalk. I'm Dr. Phil Klein. Today we'll be discussing bioactivity and biomineralization in dentistry. It's a real game changer in restorative dentistry. Our guest is Dr. John Comisi, a practicing dentist, Founder of Dental Care with a Difference, President and CEO of Sleep Focused Solutions, Inc. and an Associate Professor at the Medical University of South Carolina, James B. Edwards College of Dental Medicine.
Podcast Exam
Please
Log in
to take exam and earn CE credit.
More Podcast Episodes You Might Like