Episode 97:
Composite/Hybrid CAD/CAM Materials: 3) Indications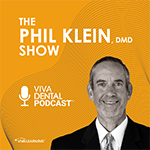 Supporter: COLTENE
CE Credits: 0.25 CEU
Dental podcast hosted by Dr. Phil Klein: This Viva Podcast will discuss the indications for CAD/CAM materials. Our guest, an expert in the field, is Dr. Samuel L. Corey, a dentist in private practice in Fort Wayne, Indiana specializing in Hi-Tech and Cosmetic Dentistry for over 25 years. Dr. Corey is a recurring guest on a local television show called "Docs on Call" to answer questions and educate the community about dentistry.
Podcast Exam
Please
Log in
to take exam and earn CE credit.
More Podcast Episodes You Might Like