Financial and Treatment Presentation: 6 Steps to "Yes!"
Related Podcast from The Dr. Phil Klein Show:
I Can Afford It - Secrets of Financial Arrangements that Get a "Yes!"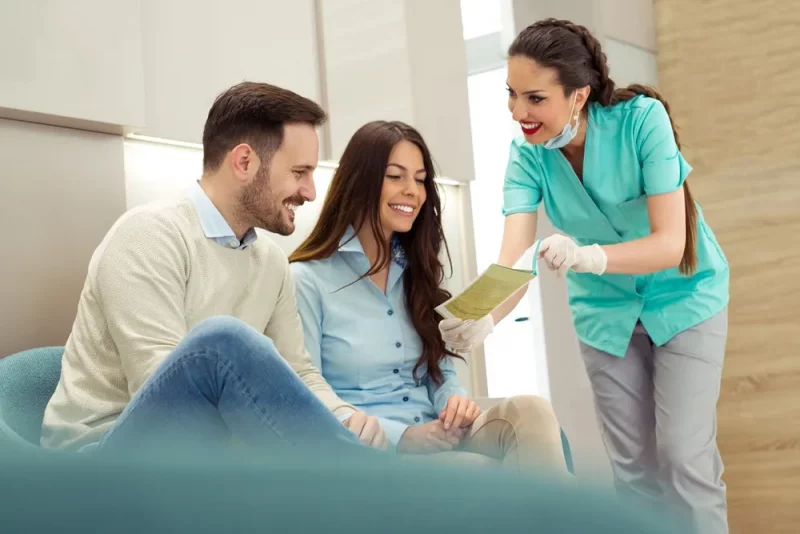 You've done the exam, studied the images and created an excellent treatment plan. You've walked the patient through the plan, and they see that it makes sense. But when they ask what it will cost, you may be met with a host of objections that deprioritize dental care.
Wouldn't it be great if there was a way to present treatment plans and financial arrangements in a way that reliably results in "yes"? There is. To learn all about it we spoke with Steven J. Anderson, who coaches some of the highest performing teams in dentistry. Steven is the founder of the Total Patient Service Institute, Crown Council and Smiles for Life Foundation, and the author of numerous books and learning programs.
Here are the six steps to "Yes!" that Steven recommends….
1.
Take the time to learn the patient's goals. 

Before you create a treatment plan you need to take a moment to really understand what they want. What would they like to achieve? What would be ideal for them? What potential limitations might exist? Once you have these answers, your job as the practitioner is to help the patient find the ideal solution that will help them get what they want.

While it sounds simple, this approach is a very different mentality—and therefore creates a very different patient experience—than the typical "I'm the doctor and I'm telling you that this is what you need" approach.


2.
Ensure your treatment recommendations align with what the patient wants. 

As Steven points out, quite often "clinical dentistry runs contrary to psychology in terms of how people typically make decisions." You diagnose, create a treatment plan and then tell the patient everything that's wrong. Not surprisingly, they don't get excited about getting it fixed. They may not have even realized something was wrong in the first place! Contrast this to understanding where the patient's coming from and presenting things in a way that naturally ties into what they want to do.


3.
Present just one treatment plan. 

"The ideal situation," Steven explains, "is to do your homework on the front end, so that what you present to the patient is something that fits them. You're not putting them in a position where they have to think through different alternatives. The hardest work we do as human beings is think, and we will do almost anything to keep from having to think." Patients are relying on the dentist, as the expert, to know what is best for them.

If you present the patient with multiple options, the patient may get confused. As Steven asserts they're coming to youto map out the ideal solution for their situation, so that they can feel or look their best.



[blogad]



4.
Prepare financing options in advance. 

Part of doing your homework on the front end is to have your financial coordinator involved at the planning stage. They should be prepared to present multiple payment options.

For example, Steven recommends offering a third-party financing option as a payment option to all patients. One that Steven recommends is Sunbit. Sunbit patients are twice as likely to be approved versus traditional financing options, which makes it an accessible solution for nearly everyone. And building on its popularity in the automotive parts and service financing world, has recently double-downed on dentistry, with over 6,000 practices currently offering its technology (and growing).

"Sunbit has one of the fastest approval processes that I have ever seen!" Steven exclaims. "A customer needs to provide just a few pieces of information and in less than 30 seconds you get a response back. One of the things I love about it is that there's no hard hit to their credit to check their options."* This allows you to have the patient get pre-approved and learn what their approval amount would be before you have the financial discussion with them.
5.
Be prepared to address objections. 

The vast majority of the time when you follow this process you'll get acceptance. But for the 20% of cases where you do get some pushback, here's how Steven recommends you present other [assumedly less expensive] treatment options…

"Based on what you said you wanted, there are other options. Before we get into them, I will say that they may not get you the ideal that you said you wanted, but there are options. So with your permission, we can look at some other options, and we will walk through the pros and cons and what you get. Does that make sense?"

All of that said, it's also important to understand the difference between a condition and an objection. A condition is a currently existing fact, such as "I just filed for bankruptcy" and an objection, which might be the patient's way of saying, "I'm not moving ahead because I just don't know or understand enough to make a decision."

And what about when the patient is overwhelmed by the price tag ? Often this really means "I can't write you a check for the full treatment today." But if they could pay it out over a period of time then yes, in many cases, they could accomplish getting the treatment they need.

That's why when your financial coordinator is preparing for the discussion, they need to present the monthly payment amount by helping the patient get pre-approved for a payment plan through Sunbit, in addition to presenting the total cost. This makes it much easier to get to "yes."


6.
Have your financial coordinator present in a quiet space away from the front desk. 

After being evaluated and before the patient makes their way to the front desk they're feeling medically cared for and their mind is on getting their problem solved. The moment they move to the front desk, they will think and feel differently. Steven observes, "your mind goes out the door, into your car and onto the next five things you're going to do." They may also feel uncomfortable discussing financials in front of other patients waiting in the lobby.

This is why the ideal is for you to present the recommended treatment plan in a quiet consult room where perhaps you can have images up on the screen.

Regardless of where the financial discussion takes place, it is vitally important that all discussions take place in one visit. "There's an inverse relationship between time and acceptance," Steven emphasizes. "The longer the time, the lower the case acceptance."



As with anything, you'll want to track and measure your success regarding case and financial arrangement acceptance, to help with continuous improvement in this area. There are a number of ways you can look at this, the most common being to track dollars presented versus total dollars accepted, number of treatment plans presented versus number of treatment plans accepted, or number of patients you presented to versus number of patients who accepted something. For those who say no, it's helpful to also track why they declined, as this will provide invaluable data regarding what part of the process requires improvement.




*Account openings and payment activity are reported to a major credit bureau. Loans are made by Transportation Alliance Bank, Inc., dba TAB Bank, which determines qualifications for and terms of credit.